The Seine River flows through the center of Paris and is the main artery of the City of Light. You can cruise down one of Europe's most enchanting river through storybook landscapes of vineyards, historic abbeys, Norman castles, tranquil orchards and medieval towns.

On a Seine River Cruise you'll have the chance to explore the beauty of Versailles, see picturesque Honfleur and discover the Alabaster coast. You can visit the home of Claude Monet in Giverny, with its wonderful gardens, stroll the streets of Rouen, the city of Joan of Arc, with it's half timbered houses and immerse yourself in the grandeur of Paris.

Come join us on one of our Seine cruises and enjoy the majesty of northern France's Normandy region. Contact our cruise specialists to plan your Seine Cruise today. Call us at (800) 526-8539 or send us an email at Sales@eurorivercruises.com Or click here to fill out our Request Form.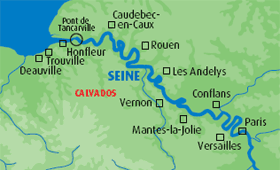 Seine River Cruises

Trip

Duration

Click on the Cruise Code to view the Itinerary & Departure Dates

Paris to Honfleur and Back

4 Nights

The finest and most picturesque Ports of Call in the Seine Valley - Paris to Paris

5 Nights

Authentic Normandy - Paris to Paris

6 Nights

Paris to Normandy's Landing Beaches - Paris to Paris

7 Nights

Paris and Normandy - deluxe cruise Paris to Paris

7 Nights

Active and Discovery on the Seine - Paris to Paris (1 night hotel Paris, 8-night cruise Le Havre to Paris - or reverse order)

7 Nights

Paris and Normandy (7 nights deluxe cruise + 2 nights hotel Paris) Paris to Paris

9 Nights

Grand France Cruise from Paris to Port St. Louis (or reverse)

14 Nights

Grand France Vacation (2 nights hotel Paris, 14 nights cruise) - Paris to Arles

15 Nights

Ultimate France - 7 nights cruise on the Seine river, 7 nights Bordeaux cruise, 7 nights Rhone river cruise - Paris to Lyon

21 Nights
Travel safe and travel smart!
Know Before You Go
Find out more about the ports of call you will be visiting.
Please note:
A valid passport and/or visa is required for travel. Please consult with your Consulate for more information.